As school funding discussions roll on, so does the momentum and gravity of the subject as the urgency and impact of insufficient funding in schools and LAs snowballs.  The issue is not going away. It's only getting worse as ministers scramble to comprehend why the system still isn't working, regardless of the ongoing introduction of the "soft" National Funding Formula this year.
Organisations such as Worth Less?, F40, and the Headteachers' Roundtable are great mechanisms to open up the discussion, providing a voice and a platform for the sector to be heard.  The analysis and causes of this system failure have now been identified so it is time to bring it altogether and provide the solutions necessary for successful change.
Through our collaborations we've learnt about the positive visit Damian Hinds made to Devon last month.  How he and his influential colleagues listened to F40 concerns and in particular, the rising anxieties regarding the High Needs Block and special schools.  These thoughts were shared by the Department for Education and the feedback is that they are looking for ideas to help the situation… this is the opportunity we have been waiting for!
With the High Needs budget underfunded by an estimated £300 million, causing many LA's to top slice the Schools Block by 0.5-1% to fund High Needs, there is a knock on effect on all schools, leaving the most vulnerable exposed as school leaders make tough decisions on what to cut from their school budget. In such incredulous circumstances the assumption is that there are no other options but to simply do what we have to do, but those working within the special school sector in particular, know there is another way.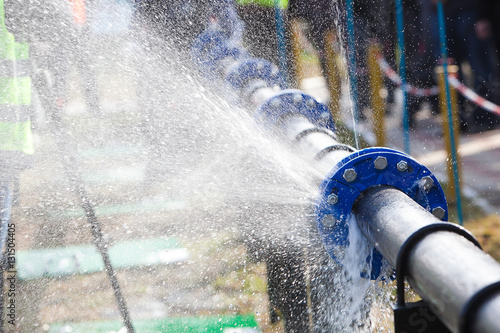 We have identified the 'leaking pipe'. It's always been there, but the flaw has emerged through the cut backs in the maintained system. A simplified scenario gives context:
Lack of on-going investment in education and real time cuts to funding; schools respond by cutting back on staffing and resources; this results in schools unable to meet as many pupil needs; pupils with additional needs now unable to be met in mainstream, transition to special schools; maintained special schools get full and filled to over capacity; maintained special school placements no longer available/ not able to meet need due to shortfall of school funding; LAs pay up to £200k (7 times more than the highest funded maintained special school) per year, to place pupils with additional needs in private sector placement.
Sounds superficially reasonable; if the maintained sector cannot meet additional needs, then we, as taxpayers, should pay for the private sector to deliver. However, flipping the narrative on this, at £200k for a pupil place, there won't be a single maintained school leader in the country who couldn't develop a provision to meet any type of pupil need. This raises an important question. Why doesn't this happen? The answer, because the current funding mechanism for the high needs budget is outdated, with no robustness to the national formula for distribution to LA's, and because the SEND code of practice stipulates that High Needs funding reflects pupil need.
Again, this sounds rational. But it's not. A person's need isn't the aspect of education that costs money. It is the resource/provision that meet a person's need that costs.  By changing the funding structures to ensure it reflects the resource and provision necessary for a young person to be educated effectively would not only enable a High Needs fair funding formula to be established, but it would also provide a more stable platform from which school budgets can be forecasted and therefore effectively managed. This difference would fundamentally retain more public money in the public sector, fixing the leak.
As a result, a different scenario would unfold:
While the sector awaits investment into school funds, schools maximise on a provision focused approach to meeting pupil needs; collaborations between mainstream and special schools are created and formalised to efficiently utilise strengths in the system; greater inclusion opportunities for all pupils in both mainstream and special schools; special schools retain places for only those young people who require a separate provision; collaborations between social care homes and special schools (inc EBSD and AP) for young people who require a more bespoke residential package of support; as a result an increased number of young people stay within their local communities and maintain regular and frequent contact with their family; we shape a future generation who value inclusivity and know how to make it work.
Fixing the leaking pipes maximises what's already in the system.
Sabrina Hobbs is Executive Primcipal of Severndale Specialist Academy, Shropshire and is a member of the core group of Heads' Roundtable.